Welcome to the Witch Spring Wiki!
Witch Spring is a mobile game for iOS and Android developed by Korean game company Kiwi Walks. In this world, there exist the Deities, a race with magical abilities. They were once hailed by gods, until jealous Humans one day instigated a war with them and forced them into hiding. But now, it's time to fight back!
Our guide currently contains over 119 articles. Help us expand the Wiki! We also have a Discord server if you need extra help with the game!
Media
Featured Article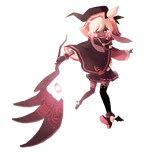 Pieberry is the main character of the first Witch Spring game and a supporting character in the second. When she was very young, the war between the humans and deities began, so she has lived by herself almost her whole life. However, after a chance encounter with a Warrior-wannabe, she gets sick of staying in hiding... Read More >>
Official Twitter
Ad blocker interference detected!
Wikia is a free-to-use site that makes money from advertising. We have a modified experience for viewers using ad blockers

Wikia is not accessible if you've made further modifications. Remove the custom ad blocker rule(s) and the page will load as expected.